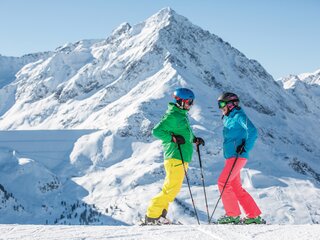 Benefits
Rent & benefit from INTERSPORT Heidegger
More and more skiers are discovering the advantages of ski rental, because anyone renting skis always use the latest models – with the best possible service of course. There's also no need to lug them from home. Travel light to Kühtai and rent your equipment at INTERSPORT Heidegger. You can switch between different models free of charge at any time and always have the perfect skis for the slope conditions. If you want to ski longer, service is of course free during the rental period.
Families are particularly important to us. Therefore children aged up to 10 rent skis or snowboards for free if both parents rent them from us.
Our tip: Insure your rental equipment with our low cost carefree package. In the event of breakage or theft, there is no excess to pay. An adult pays € 6 (1 rental day), € 10 (2 rental days) or € 20 (from 3 rental days) once. For the carefree package a child pays € 3 (1 rental day), € 5 (2 rental days) or € 10 (from 3 rental days). A police report is necessary in the event of theft!