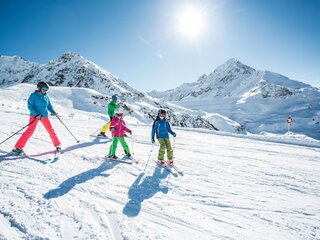 Ski rental in Kühtai
Rent top equipment at INTERSPORT Heidegger
Service is our passion. Whether it's changing a model free of charge, exceptional hygiene standards, the latest models, or solutions to individual problems – we want your holiday to be unforgettable!
We focus on YOU and your personal needs. You can rely on our expertise and practical know-how, because we test our equipment ourselves.
Das macht unseren Skiverleih im Kühtai so besonders
Eine Woche Skiurlaub in Tirol, traumhaftes Wetter, Pulverschnee und gutes Essen. Bequeme Skischuhe und top servicierte Skier sind da natürlich wichtig, um die Zeit auf der Piste vollends genießen zu können. Wer im Skiverleih bei INTERSPORT Heidegger im Kühtai Ski oder Snowboard mietet, kann sicher sein, die passende Ausrüstung zu bekommen. Wir beraten dich gerne, welches Modell zu dir passt. Dass all unsere Ski und Schuhe jedes Jahr getauscht werden, versteht sich von selbst. So kommst du immer in den Genuss, die neuesten Modelle zu fahren.
Und das beste: Mietest du Premium oder Superior Ski, kannst du beliebig oft zwischen unterschiedlichen Modellen wechseln. So hast du immer die passenden Verleihski für die aktuellen Schneeverhältnisse. Ja sogar ein Wechsel zwischen Ski und Snowboard ist kostenlos möglich!
Familien sind uns bei INTERSPORT Heidegger besonders wichtig. Daher haben wir im Skiverleih Kühtai zahlreiche Angebote, speziell für die Skifahrer von morgen. So mieten Kinder bis zehn Jahre Ski, Skischuhe und Helm kostenlos, wenn beide Eltern ebenfalls Ski oder Snowboard bei INTERSPORT Heidegger ausborgen. Jugendliche bis 14 erhalten im Skiverleih Kühtai - 50 Prozent Rabatt auf ihre Leihausrüstung.
Übrigens: Wer Zeit sparen möchte, reserviert seine Ausrüstung am besten direkt online. So können wir deine Ski bereits für dich vorbereiten und du bist noch schneller auf der Piste!